EMK3 Cloud
Water Ticketing
EMK3 Cloud Water Ticketing

A modern cloud-based solution for water ticket management, significantly improving tracking, review and invoicing efficiency.
Mobile App for Entering Tickets
Automated Cost Calculations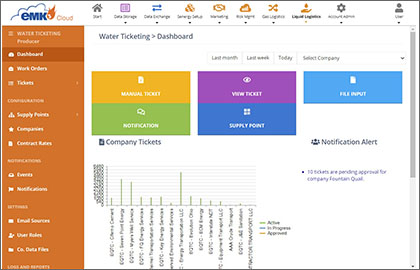 Mobile App for Entering Tickets

BOL Tickets are entered by the transporter in the field using a simple and secure mobile app. The data can be sent real-time or cached and synchronized later.

Transporter View

The application has a "Transporter View" for use by the transporter company which gives them all the necessary functionality to review, edit and approve their tickets before submitting to the producer.

Producer View

The application has a "Producer View" for use by the producer company which allows them to see all the ticket activity across all transporters. It allows the producer to review, accept/reject and process the tickets for invoicing.

Real-Time Reconciliation

The transporter and producer can collaborate in real-time during all stages of the business process, from the tickets original creation in the field all the way through reviews. This greatly improves process efficiency, data quality and invoicing accuracy.

Automated Cost Calculations

Transportation fees from contract terms are entered as "Cost Codes" and then assigned to each ticket. The system automatically calculates the transportation costs.

Export Data

All the ticket and cost calculation data can be exported using custom "Export Mappings" for easy integration with a revenue accounting system or for reporting back to the transporter.