EMK3 Cloud Data Storage

An easy, flexible, and fully customizable data storage solution used to design "Forms" for storing any data in the cloud.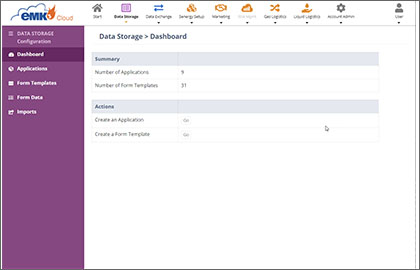 Store Any Data

"Applications" consist of one or more "Forms" that are designed by the user with easy to use drag-and-drop tools. No programming or technical experience is needed.

Fully Customizable

An application's "Forms" are built by the user for the user. The user has complete control over the layout of the Form and the type of data that is saved on a Form.

Flexible Import Options

Data can be loaded into an application's "Forms" from various sources in various ways. This includes everything from manual entry screens to fully automated delivery via the Data Exchange service, CSV/XLSX files or APIs.

Your Data for Your Use

All data stored within Data Storage sits in an Azure Storage Account and Azure No-SQL Database, both of which can be within a customer's own Azure Account. Meaning you own and control your data.

Safe and Secure

Since all data resides with native Azure services, you get all the security features and safeguards of the Azure platform.